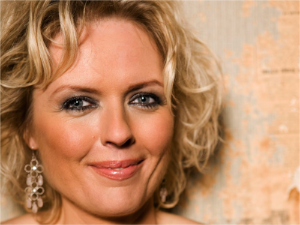 "Katrine Madsen is a true Danish Queen of Jazz. The nearest we get to a Shirley Horn in this part of the world...she reaches new heights with her dark toned, sensual and wide ranged alto voice. She has an expressive depth in her voice which is an inborn communicative gift seldom to be heard."
JazzSpecial (Danish Jazz Magazine)
"The simpler, the better.
Jazz does not have to be long, complicated solos. When jazz is at its best it presents itself as a brilliant banality. Naked music with a soul. Katrine Madsen knows the art of turning jazz into something which everyone can relate to. No academic prerequisites are needed. Everything seems straight forward and so easy. When Katrine Madsen sings we do not ask for anything else. Everything is said and every word is heard. When she sings we listen with our breath drawn in order not to disturb."
BT (Danish National newspaper)
"Katrine Madsen sings with a down played and at the same time glowing expression and she writes songs which
effortlessly mingle with well recognized works."
Berlingske Tidende (Danish National Newpaper)
"She is exciting not only as a singer, but also as a composer and she demonstrates both talents brilliantly. Here her bluish voice vibrates with an anxious sweetness and an exhausted melancholy. Both deeply felt and teasing, with an eye for choosing the direction which others wouldn't – and that is meant as a big compliment. There's an unexpected maturity in her voice, daring phrasing and an almost understated reserve of energy."
EKSTRA BLADET: (Danish national newspaper)
Katrine Madsen, singer, composer & producer. (Born March 7, 1972)
Short info:
Recieved the 2 year composers grant from Statens Kunstfonden.
Honoarable member of "The Philippine Musician´s Union".
Nominated for a Danish Music Award in 2005 for her album CLOSE TO YOU.
Nominated for a Danish Music Award in 2006 for the album "BOX OF PEARLS".
Wrote the song "Dansen & Valsen" which is on the album GLEDA that got nominated for an Australian Bell Award 2006 as best international jazz release.

CD´s in her own name:
1996 "I´m Old Fashioned" Music Mecca Records
1997 "Dream Dancing" Music Mecca Records
1999 "You Are So Beautiful" (KM with Ed Thigpen Trio) Music Mecca Records
2000 "My Secret" (KM Quartet feat, Lars Møller) Music Mecca Records
2002 "Magic Night" (KM & Bohuslän Bigband) Music Mecca Records
2004 "Close To You" (KM with Stefano Bollani, Jesper Bodilsen & Morten Lund)
2006 "Supernatural Love" (KM with trio + Ulf Wakenius a.o)


Tours:
Intensively touring in Denmark and Sweden since 1993
Several tours to Japan and Australia since 2000.
Tours/Concerts in Europe, USA, Vietnam, Singapore, Russia, Phillipines etc..
Selected CD´s as guest soloist:
2003 "Box Of Pearls" (Svante Thuresson & Katrine Madsen)
2003 "We Are Povo" (KM with POVO)
2002 "Live In Stockholm" (Svante Thuresson & Katrine Madsen)
2002 "Gershwin & More" (Baker Boys)
2000 "Edderkoppen soundtrack"
1999 "A Tribute To Love" (Richard Bone)




--------------------------------
Booking & Management
Lars Eeg
mail@inmusic.dk
Tel.: +45 – 2992 2090

INMUSIC
Adelgade 102A
DK-8660 Skanderborg
Denmark
--------------------------------